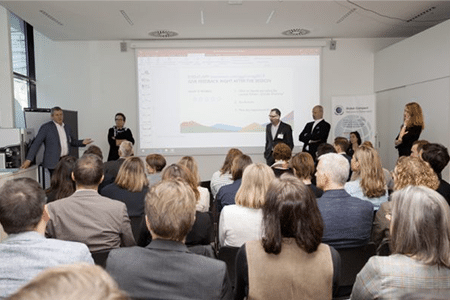 CSR Tag 2019 – Working Session: Circular Economy
WORKING SESSION 3: The way forward is circular
SPEAKER
Angelika Guldt –  Sustainability Communications, Lenzing AG
Thomas Kasper – Präsident des österreichischen Baustoff-Recycling Verbandes (BRV); Vize Präsident der European Quality Association for Recycling (EQAR)
Andreas Röhrich –  Director Product Development & Innovation, Wolford AG
Thomas Romm – Architekt bei forschen, planen, bauen ZT & Gründer von BauKarussell
MODERATION
Julika Dittrich – Leitung Plattform Kreislaufwirtschaft Österreich "Circular Futures", Umweltdachverband
Diese Working Session wurde vom Global Compact Netzwerk Österreich organisiert und von der Austrian Development Agency (ADA) gefördert. Die Working Session wurde in Englisch abgehalten.
A transition from a linear to a circular economy seems indispensable to address the root causes of pressing global challenges and can only be achieved if various stakeholders pull together to drive sustainable development. Companies are challenged to find new ways of re-designing current product lifecycles, while consumers need to re-think purchase decisions to influence the market in turn. The construction and textile industries are known to be controversial in terms of their social and environmental impact on our planet. Despite their amount of challenges they face, both industries benefit from enormous potential finding solutions in the SDGs.
Thomas Romm and Thomas Kasper shed light onto the innovation potential of circular economy in construction industry and gave insights on various challenges the industry has to overcome. Circular procurement offers a variety of solutions. For instance, Porr not only builds but also demolishes and reuses material from construction sides. Reuse – recover – recycle is seen as the primary waste hierarchy. In future, leasing-models to regain material and collaborations will shape the industry, according to Thomas Kasper. As an example the construction side on Seestadt Aspern was presented: 60% of the material stems from the construction side. One million tons of predominantly gravel was recycled on site. The fertile soil, which is considered a valuable resource, has been recovered and is being used for gardening projects across Vienna together with BOKU Wien ("Circular Soil").
The textile industry is often quoted as the second most polluting industry after oil production. As presented by Angelika Guldt, Lenzing's core business are wood-based fibers. In order to tackle the environmental and social issues in such a controversial industry the company established a SDG strategy, which is based on three pillars: Greening the value chain – partnering for change – circularity. One of their most well-known textiles, TENCEL Lyocell is made of production cutoffs that are converted into pulp and blended with wood-based pulp. The environmentally responsible closed-loop fiber process aims to reinvent business models and relationships with brands. The majority of their fibers produced are compostable and biodegradable. According to Andreas Röhrich, Wolford's journey towards the SDGs started when they identified their main material Nylon as a key waste problem since it is usually incinerated. Nylon is likely not reusable, so a change in strategy was mandatory to survive in future. As a result, their first cradle-to-cradle (C2C) gold standard products have lounged in 2018. The innovative mindset has driven them to change part of the product line into certified C2C-products. At the end of their life, the products are composted, whilst producing biogas as a byproduct. The new product line is 10-20% more expensive in terms of production compared with conventional products. A risk they are likely to recompense in near future. Revitalizing their brand has been key for Wolford: their consumers were elder on average, whereas the sustainable product line is now drawing younger women to the brand again.